Notice: Undefined property: Joomla\CMS\Categories\CategoryNode::$catslug in /var/www/plugins/content/socialbuttons/socialbuttons.php on line 62
Watchguard
Watchguard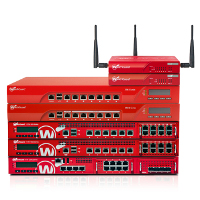 Watchguard firewalls and security products offered by J. Darin Thomas Technology LLC.
Details

Parent Category: Security Products
WatchGuard® XTM 2 Series appliances deliver a new class of performance-driven security. Network protection is stronger than ever, with full HTTPS inspection and VoIP support. All models have five 1GbE ports for faster link speeds, and optional wireless capabilities include dual-band 802.11n technology for greater wireless speed and responsiveness. Easy to deploy and manage, with real-time monitoring and rich reporting included at no additional cost. An XTM 2 Series appliance can be used as a stand-alone security solution for a small business, and makes an ideal endpoint for connecting a secure VPN tunnel back to a WatchGuard XTM network.